We're here to answer any questions you might have about our products and service. Contact Shayna Rose Interiors by email, phone, or live chat and we'll be happy to assist you.
It's our pleasure to provide the support you need so that you can focus on your project and bring your interior design dreams to life!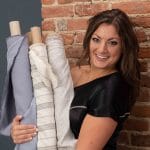 Learn more about our mission and our unique service!
Schedule A Consult
Spend 30 minutes with Shayna Rose (virtually or in person) to discuss your vision, get recommendations for your space, and enjoy the creative process of interior design!
Our Partners