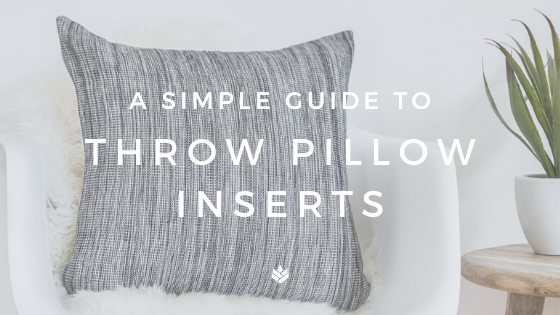 A Simple Guide to Throw Pillow Inserts
What is one thing in this world that everyone loves? Throw pillows. Throw pillows are both decorative and comfortable. They make a big impact in a room, with relatively little expense, effort, or maintenance. They're easy to change seasonally, making them an excellent option for giving your home a subtle, festive touch. Basically, throw pillows are an fun, easy-to-implement element in interior design. 
Unfortunately, many homeowners put a lot of thought into shopping for just the right decorative throw pillow cases, but neglect to consider what throw pillow inserts will be best for their pillows. We think that's silly, because you can keep your throw pillow inserts for years, even if you choose to change out or upgrade your decorative pillow cases from time to time.
(All of the decorative throw pillow cases on our site have a hidden zipper, making it easy to change your design accents to fit any mood, occasion, or season!)
We don't want you to make that mistake! So we're here to help you choose the right throw pillow insert for your decorative pillow case. At Shayna Rose Interiors, you can choose from three options: 
1. Essence of Down
An essence of down throw pillow insert is our most cost-effective option. We recommend you use essence of down pillow inserts for the decorative pillows in your home that you don't tend to lay on very often. Essence of down will keep its shape – meaning that your decorative pillow will always have that full-bellied quality that shows of the design of the pillow case. 
2. 25% Feather/ 75% Down
A 25% feather throw pillow insert is the middle-of-the-road insert for pillows that you want to be both comfortable and plump. More so than essence of down, a 25% feather pillow will have some fluffiness and plushness to it that will make it more comfortable for laying. And, with only 25% feathers, this insert doesn't require too much fluffing and maintenance. However, if you want truly luxurious comfort from your pillow, keep on reading. 
3. 50% Feather/ 50% Down
The 50% feather throw pillow insert is the highest-quality, longest-lasting insert offered from Shayna Rose Interiors. If you want to use your throw pillow to lay on your side or back, we highly recommend opting for quality. Our 50% feather pillows are hypoallergenic, and they manage to feel both dense and fluffy at the same time! All of our high-quality 50% feather down inserts are filled and finished right here in the U.S. This pillow insert does require semi-regular fluffing in order to keep its shape and feel. 
Alright, now you're an expert on throw pillow inserts! So let's see what you've got.
Tag us on Instagram with photos of your favorite throw pillows in your home.