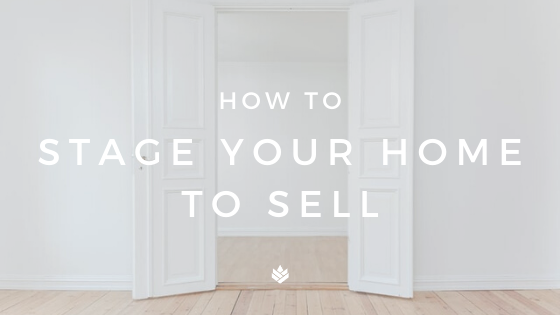 Moving can be stressful! But with help from Shayna Rose Interiors, staging your home doesn't have to be.
A survey by Coldwell Banker Real Estate Corp. found that staged homes often sell for more than 6% above the asking price. And staged homes sell 73% faster than non-staged homes, according to a Mortgage Reports Study from 2019. 
So staging your home is essential for making a quick, high-value sale.
Here's how you do it:
Pre-Plan: Set yourself up for success by finding a trustworthy real estate agent, a reputable moving company, a storage unit, an appraiser, and professional cleaners.
De-clutter: This is the most important step to successful staging. Empty and clear every drawer, closet, and countertop in your home. Donate or throw away anything that you haven't used in a year or don't need anymore. Put everything that you don't use daily into storage until you can move it into your new home.
Remove Identity: S

tart thinking about your home as though it's no longer

yours.

You want potential buyers to be able to imagine it being

theirs.

Remove all personal memorabilia from around the home. And edit the amount of your personal decorations in the space. Make each room look like someone could live there, without giving any evidence as to who actually lives there.
Clean and Repair: This step takes a lot of work, but it's absolutely worth it! Clean. Everything. And then, take the time to tackle all the little repairs that you didn't get to while you were living in the house. This includes, leaky faucets, nail holes in the wall, chipped paint, squeaky doors, and more!
Brighten and Elongate: 

This step is about creating an illusion – the illusion of light and space. Lighten up by painting walls white and removing any heavy curtains that shut out natural light. Install a 20″ drapery panel from floor-to-ceiling on either side of small windows that you want to appear larger. Add a long runner-style area rug to your hallways to make them feel longer. 

Remove and Rearrange: Return every room in the home to its original function. Then, rearrange your furniture so that all natural walkways are left unobstructed and as much of the room is walkable as possible. There shouldn't be any dividers or obstacles that make the space feel sectioned off.
Highlight or Hide: 

Identify all of the amazing features that you love about your home! These are the features you should highlight. For example, if you have floor to ceiling windows in your home, frame them with gorgeous, sheer draperies. Then, identify any awkward or less-than-functional areas in your home. These are the features you'll want to "hide." For example, if you have a short, strange wall that you've never known how to use, add a chalkboard to make it functional!
Need help? Call Shayna Rose Interiors at (646) 933-1321.
Mention this blog and receive a free 30-minute staging consultation!
For more design inspiration and how-to's, follow us on Facebook and Instagram.