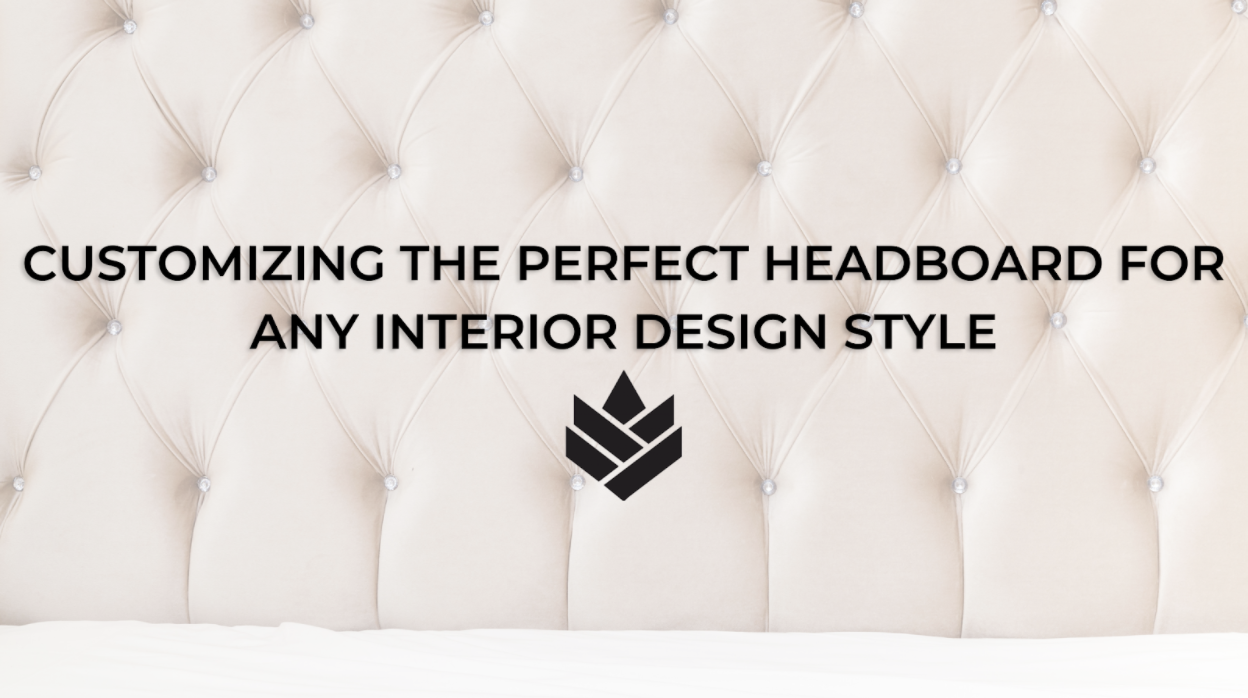 Customizing the Perfect Headboard for Any Interior Design Style
Your headboard is a staple design item in your bedroom. Think about it: Your headboard really functions as a piece of art on your wall. So it's important to find a headboard that truly suits the aesthetic and atmosphere of your ideal bedroom! Here at Shayna Rose Interiors we offer a selection of custom upholstered headboard styles that can be customized to your liking. We're here to help you make the perfect headboard for any interior design style!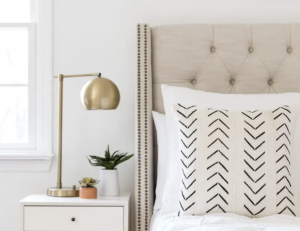 (Source: Shayna Rose Interiors)
Upholstered headboards are gorgeous. And they're also crazy comfortable! If you love reading, watching TV in bed, or even just sitting back and relaxing after a long day, your upholstered headboard will give you a cozy and plush surface to lean against. Here is what to consider when customizing your headboard: 

(Shayna Rose Interiors Headboard Upholstery Design Options)
Our custom panel upholstered headboards from our Vincenza Bed Line are made from a kiln dried maple frame. They're then covered in the highest quality materials (choose one of our quick-ship fabrics or select any fabric from our library)
Keep your headboard upholstery plain and simple for an ultra-modern look. Or, finish with tufting, welting, channeling, or nailhead details for a more personalized, stylized approach. 
Choose from:
Welting:

Inset Welting, Single Welting

Tufting:

Button Tufting, Tuck Tufting

Nailheads

: Corner Nailheads, Left & Right Nailheads, Top & Side Edge Nailheads, Top Nailheads

Channeling:

Double Channeling, Triple Channeling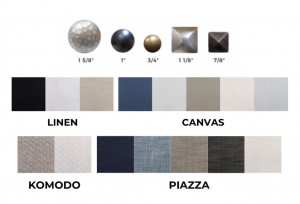 (Stylish detail options for your custom headboard)
We offer a variety of high quality fabrics that are durable and will fit any lifestyle: linen, canvas, komodo, and piazza. These fabrics are available for quick-ship, meaning that they're guaranteed to ship in less than three weeks! Have a little more time? Browse our fabric library to choose an even more personalized fabric!
Browsed the library and not found exactly what you're looking for? Don't worry! You can bring your own material and we can use that to upholster your headboard! 
Get started on your custom upholstered headboard design today! Email design@shaynaroseinteriors.com.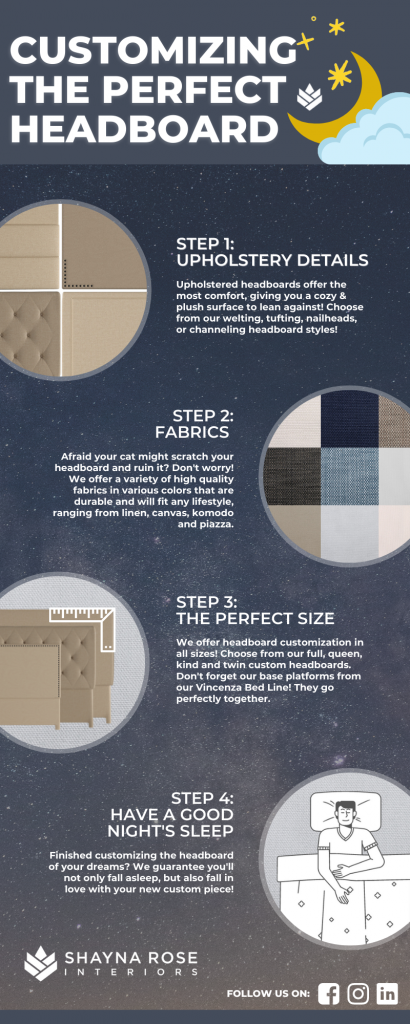 Remember, your headboard acts as a centerpiece in your bedroom, so no matter what you choose, you should love it! What better way to ensure that you totally love your headboard than to create it custom?
Contact us today to get started, we'll be happy to assist you!

And don't forget to check out more custom designs from Shayna Rose Interiors on Instagram!