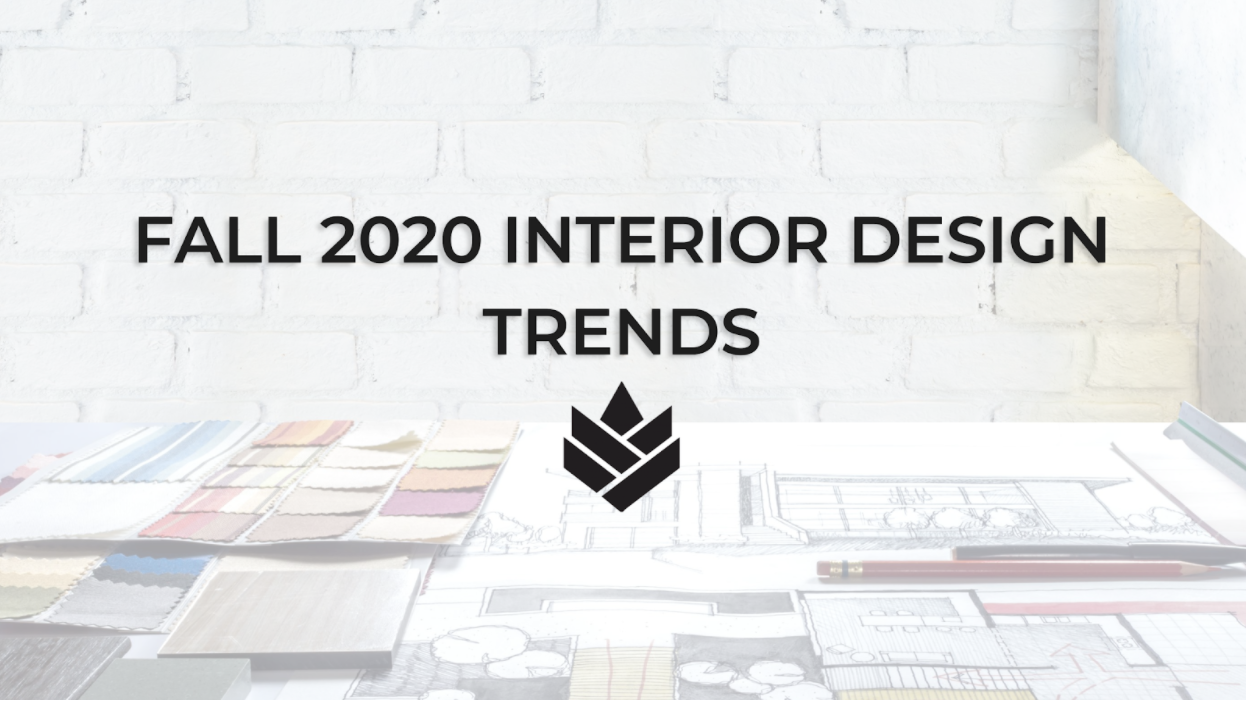 Fall 2020 Interior Design Trends
Fall is just around the corner and ready to make its grand arrival. Let's take a look at some interior design trends worth falling for in 2020. This Fall it's all about rustic details, natural elements, dark accents, jewel tones, warm metallics, and all things comfy and cozy! 
Here's our list of 5 trends to look out for this coming season! Which ones will you bring into your home's design?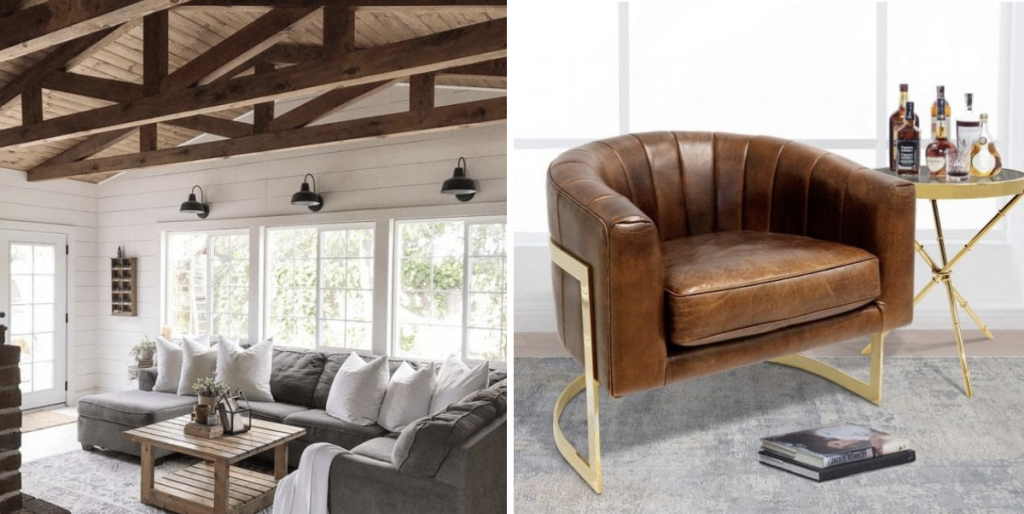 (Photos, left to right: Pinterest + Shayna Rose Interiors)
1. Modern Rustic Details
Fall 2020 is a perfect time to combine contemporary furnishings with rustic details in your interior design. Ever been to a wood cabin and immediately felt at home? Wood and other rustic materials give off a warm and cozy feeling – and create a relaxing ambiance. But who says you need to go to a cabin to get that feeling? You can recreate that ambiance with a modern twist inside your home. Use details of natural wood, earthy colors, and soft leather to add a rustic touch to your home in a new and exciting way! 
(Photos, left to right: Instagram + Shayna Rose Interiors)
2. Natural Elements
We mentioned before that Fall 2020 design trends are all about getting cozy, and this one is no exception! Interior design this fall is going to feature a lot of natural elements and organic materials. With the use of organic shapes, natural wood furniture, and soft neutral fabrics, you can create a comforting atmosphere that is totally on trend. Want to bring this trend home? Consider wooden chairs, neutral cushions, a pastel rug, or a white mud cloth or gold leather throw pillow. Your possibilities are endless!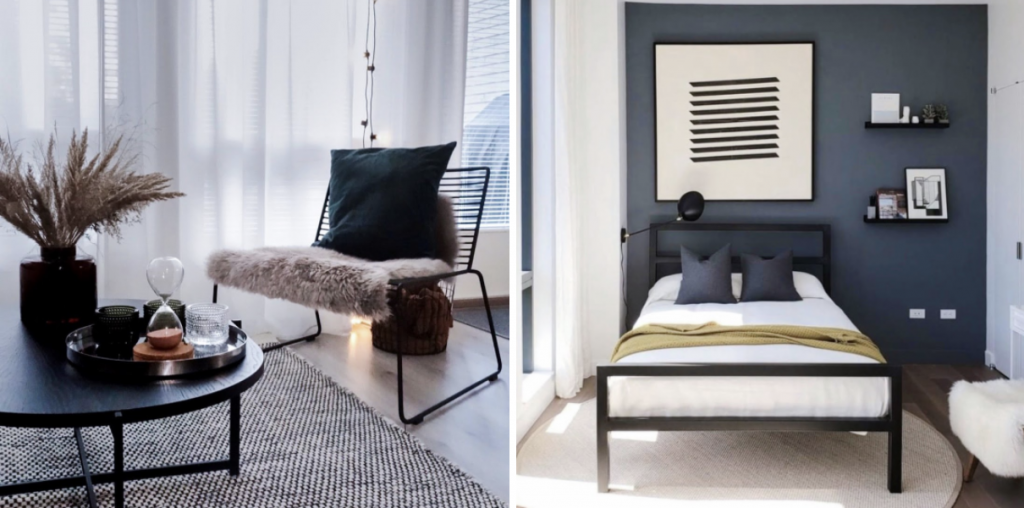 (Source: Instagram + Shayna Rose Interiors)
3. Dark and Daring Touches
Dare to come to the dark side this fall, if you haven't already. Black furniture and decor is an ongoing trend that's here to stay! Black interior design accents are a great way to create a bold, yet elegant living space. Because black is such a versatile color, it can be used to compliment or contrast almost any space. Even the simplest touch, such as a black throw pillow, will make your space look rich and timeless! Just don't go overboard and drown your room in black. A few simple touches will do the job!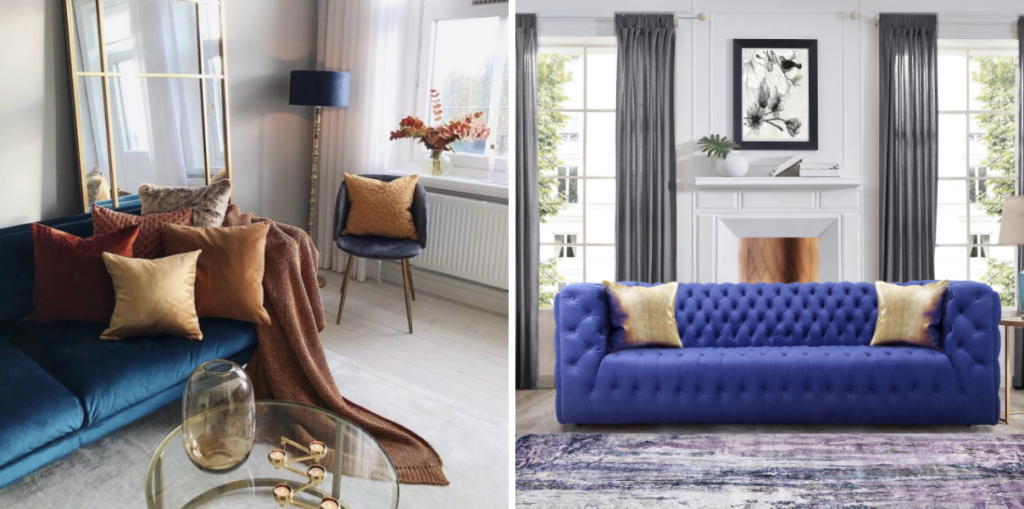 (Source: Instagram + Shayna Rose Interiors)
4. Trending Jewels
Adding jewels to your home can make your living space instantly more luxurious. No, we're not talking about jewelry! When that's trending, we'll be the first to let you know. For now, we're talking about jewel toned interior design accents. Rich, pigmented tones like ruby, emerald, amethyst, sapphire, topaz, and citrine brighten up your living space, especially when added to a mostly neutral room. Try infusing jewel tones with  materials that reflect light, such as velvet or silk. Adding a sapphire or ruby velvet upholstered sofa can make a big impression in your living space. If you want to tone it down and just go for an accent piece, a simple sapphire throw pillow will do the job!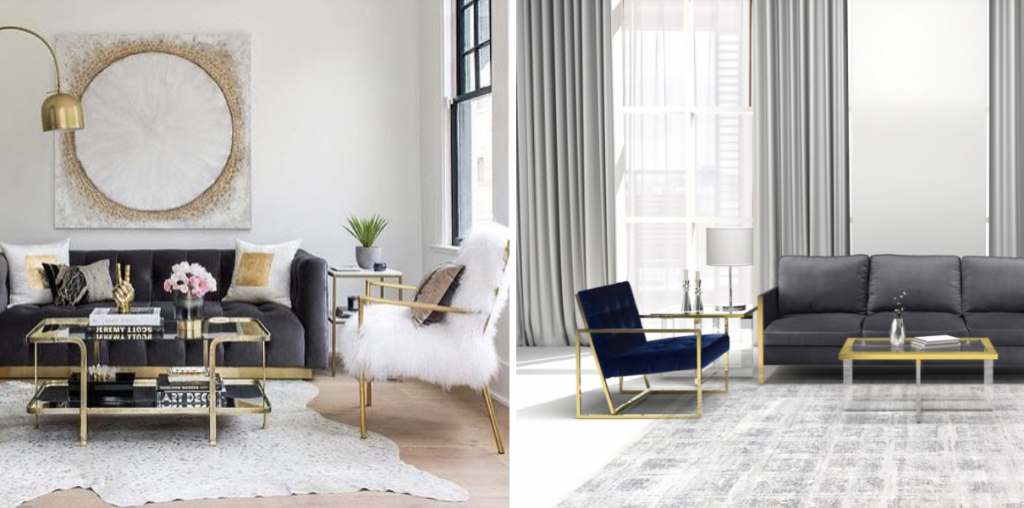 (Source:High Fashion Home + Shayna Rose Interiors)
5. Warm Metallics
This Fall, it's all about the brass. (Oh – don't forget copper and gold!) Now is the perfect time to bring warm metallic tones into your interior design. Incorporate warm metallics to create a sophisticated look that isn't too over the top. Try adding a gold coffee table or side table in your living room. Or, look for a modern lighting fixture with a metallic finish. 
Want to update your interior design to include some trendy, yet timeless, pieces that are sure to wow your guests?
Call Shayna Rose Interiors today! Mention this blog post to receive a FREE 30-minute virtual design consultation.