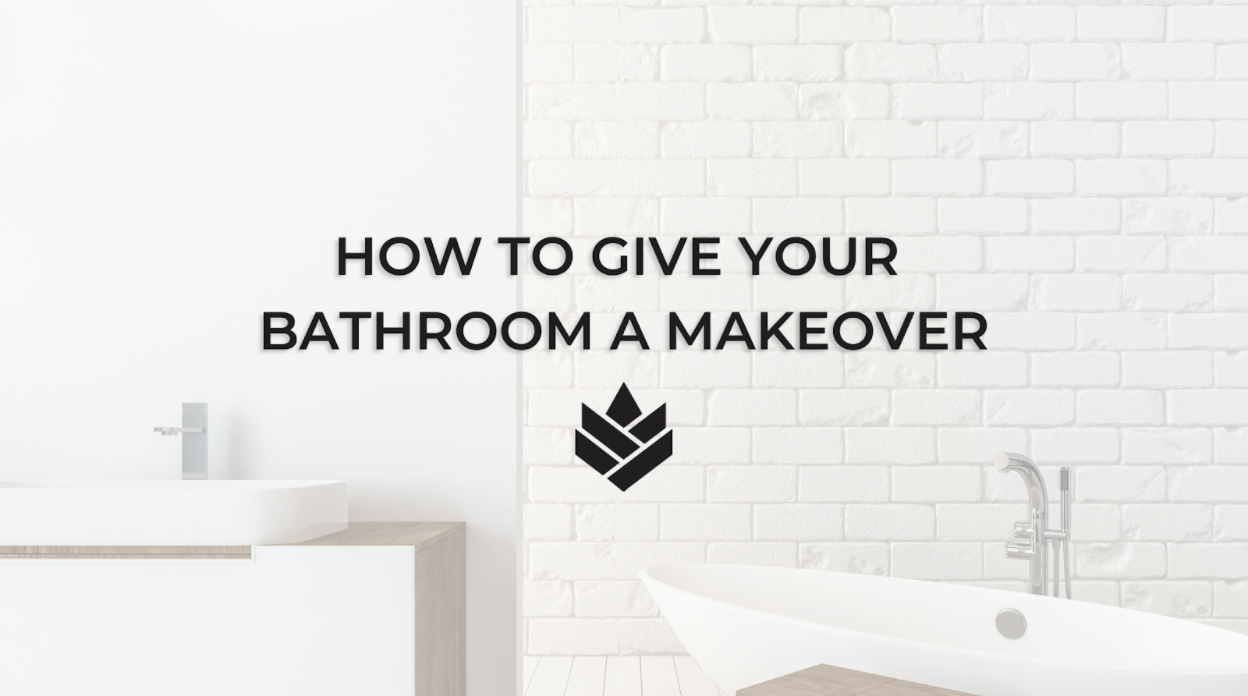 Update your bathroom interior design with functional furnishings, accents, and accessories.
At Shayna Rose Interiors, we know that your bathroom is a crucial element of your self-care routine. So why not make it serene? Here are some quick, simple bathroom interior design tips to give your bathroom a makeover:
1) Functional Style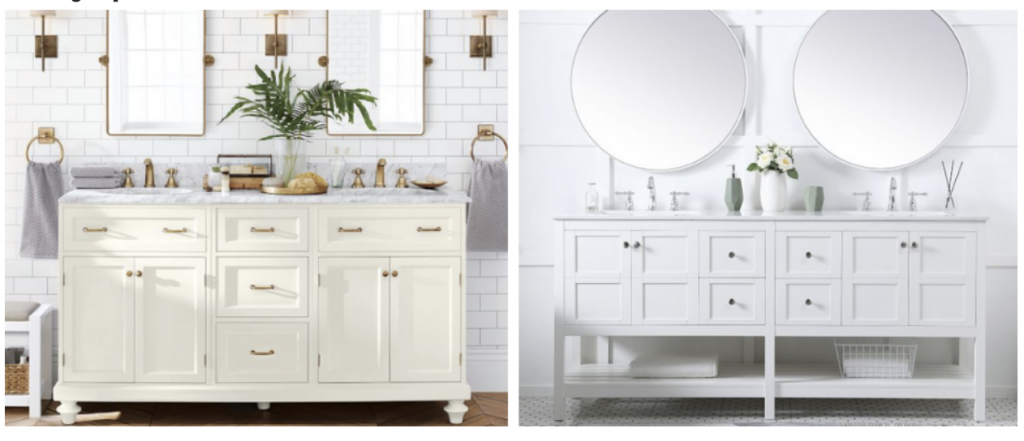 (Photos: Pottery Barn)
Update Your Vanity
Let's start with the basics, a new vanity is the way to go! 
Make sure you measure out the dimensions of your bathroom to ensure everything will fit properly. Whether your style is modern, rustic, or contemporary – there is a vanity out there for you in a variety of colors, hardware, and finishes! Check these out choices we found that are both functional (tons of storage!) and will fit anyone's unique taste. Don't have enough space for a double vanity? Don't worry, there are single ones available too!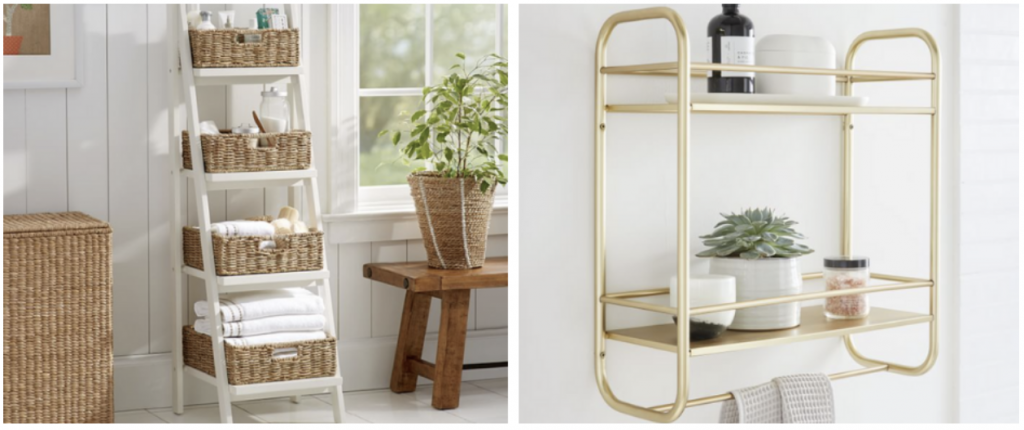 (Photos: (Pottery Barn + West Elm)
Incorporate Shelves
Are your products still spilling over from your vanity storage? Let's try adding shelving units to your bathroom redesign!
A small, stylish shelving rack is a great way to display your towels, knick knacks, skincare, and whatever you may have while maximizing your space at the same time. 
2) Practical Accents

(Photos: Pottery Barn)
Dainty Jars
Now that we've conquered the big storage units, let's focus more on the dainty decor that can be total space savers. There are so many adorable jars and storage solutions out their for bathrooms.
Where else would you store your cotton pads, bath bombs, and cotton swabs? You definitely don't want them lying around all scattered everywhere. We've found some cute and functional decorative jars that you can place on top of your vanity for easy access.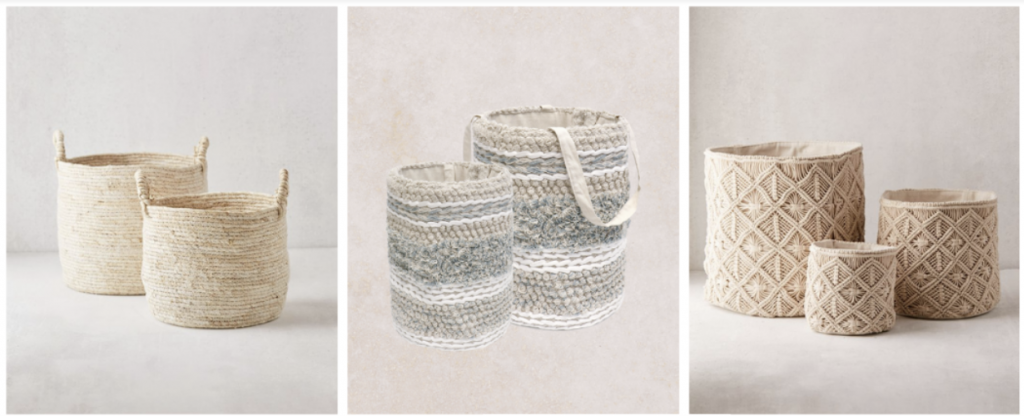 (Photos: Urban Outfitters + Shayna Rose Interiors)
Beautiful Baskets
Didn't think we forgot about those towels did you? Of course your towels should always be handy for you and your guests! Woven baskets are great for both storage and decor. Try choosing a basket that coordinates with the theme and colors in your bathroom (don't be afraid to mix and match with sizes!), here are our suggestions that would suit anyone's style! 
TIP: They can also double as laundry baskets!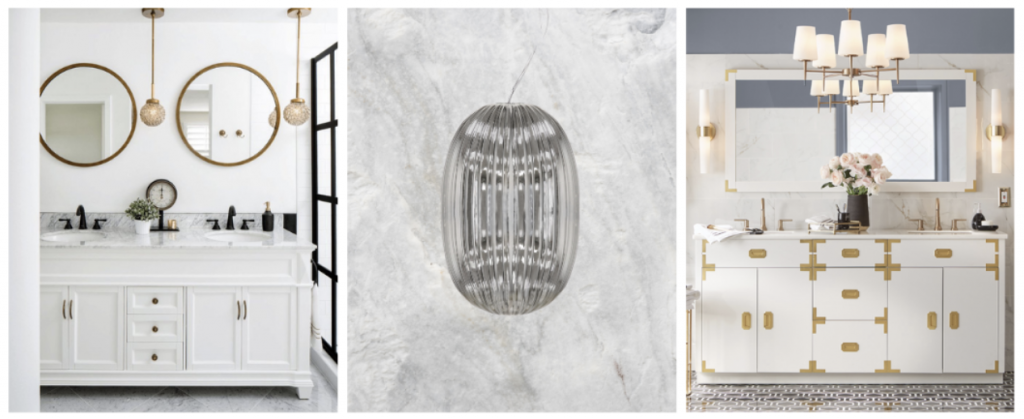 (Photos: Pinterest + Shayna Rose Interiors + Home Depot)
Eye Catching Lights 
Ample lighting is crucial to your bathroom interior design! Proper lighting create a warm, soothing atmosphere for the start and end of your day.
Your options are endless – hanging lights, recessed lights, ceiling, and vanity lights. Add different layers of light from a variety of lighting fixtures to get more light without glare or shadows. Trust us, you'll need the balance from all these layers of lights to illuminate on your face when you're doing your makeup or grooming in front of the mirror! Check out these lighting fixtures that will definitely catch your eye. 
The team at Shayna Rose Interiors recommends this Metallic Glass Pendant Light that will work as the perfect accessory for your bathroom! 
Like our content and want to see more? Follow us on Facebook and Instagram!