Over the past year, we have all come to realize what an important role interior design plays in our daily lives. Spending almost all of our time at home has made many homeowners aware of what's missing in their spaces! 
As an interior designer, it is your job to help your clients design spaces that will help them feel good. One of the most effective ways to bring comfort and peace into an interior space is to use natural materials and nature-inspired designs. 
Here at Shayna Rose Interiors, we have a variety of natural products and materials you can incorporate into your clients' homes! Whatever your design vision, we can help you bring it to life so that you look like a rockstar to your client.
Need some inspiration? We've got you covered!
Fresh Fabrics
When designing for a client who appreciates natural materials, you should pay special attention to the fabrics you select in your design.
The fabrics and materials used in furniture and design can bring natural elements into a home in a simplistic way. The most common natural material to be featured in home decor is cotton. Cotton is a very versatile textile in interior design because of its durability and breathability. 
Bed linens and upholstery are commonly crafted with cotton because of  cotton's attribute of breathability. Baskets and draperies are made from cotton due to the durability this fiber holds; allowing for items made from cotton to last a long time.
Another natural textile that contains strong durability is jute. Jute is a lesser known material than cotton is, but durability is the main focal point of this material. The durability jute has can be demonstrated in its use in ropes, fabric, paper, and more. In interior design we use jute in floor coverings and carpets specifically for outdoor living.
Check out Shayna Rose Interiors' fabric library for indoor and outdoor fabrics suitable for any design project!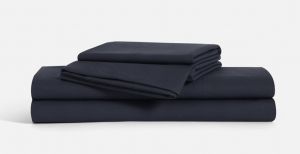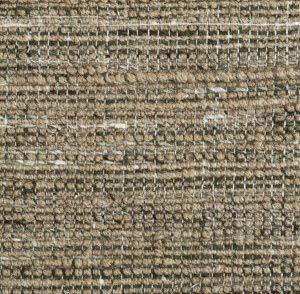 (Shayna Rose Interiors + Brooklinen + Stanton Carpet)
Natural Design from Wall to Floor
Adding supplemental natural decor elements such as curtains, linens, and furniture to a room can create a versatile look for your client. Whether your client is looking for a tropical oasis or a traditional opulent home natural materials can be used for individuals of all styles.
Natural flooring goes beyond hardwood treatments. Natural stone flooring treatments are a luxurious way to incorporate natural elements into homes. These stones include marble, limestone, slate, quartzite, and more. Natural stones do not contain chemicals or staining as other flooring treatments do. 
Alongside flooring, chemicals can gather in wall coverings and hinder the organic living designers may try to achieve. Many wallpapers contain volatile organic compounds (VOCs) that could add toxicity into your space. When looking for wallpaper, finding recycled sustainable paper is a more natural option. Another sustainable option for wallpaper is water based ink wallpaper that is also low in VOC levels by using inks that have a water base.
Using wallpapers that have naturalistic details such as wood texture and foliage can also bring these outdoorsy elements into your space.
Need help finding materials? Contact us for custom product sourcing and production!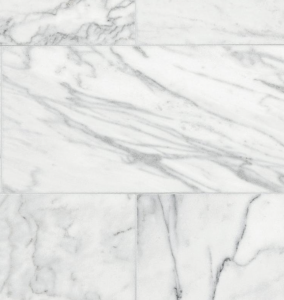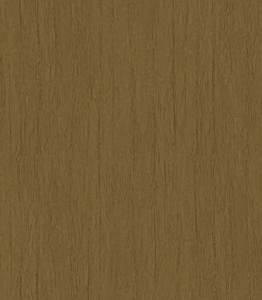 (Floor & Decor + York Wallcoverings)
Earthy Furniture Pieces
Achieving the serenity of nature in your interior design starts with conjoining outdoor elements into indoor spaces. 
Furnishings that have woodsy elements such as exposed wood or details of the outdoors will transform the space into an organic and serene getaway. In conjunction with the exposed wood different stains of woods can add contrast within a space. Contrasting finishes can tie a space together while incorporating exposed wood furniture pieces.
Another way to include nature-inspired elements into a space is by adding greenery. This is an easy way to start the transition into a more earthy and peaceful home; while adding a pop of color into a space. For more inspiration on adding greenery into the home check out our blog post, "Self-Care by Taking Care of Your Home."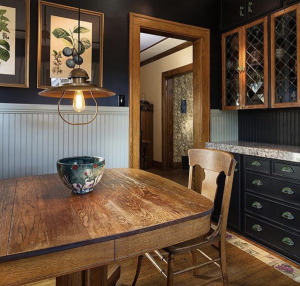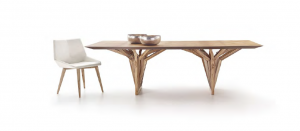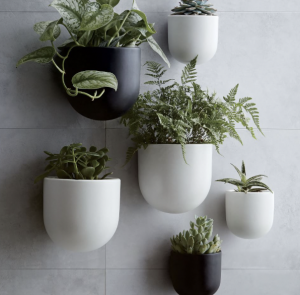 (Framebridge + Shayna Rose Interiors + west elm)
If you are looking to impress your clients with budget and eco-friendly designs, call Shayna Rose Interiors today for a custom natural piece!
Like our content and want to see more? Follow us on Facebook and Instagram!