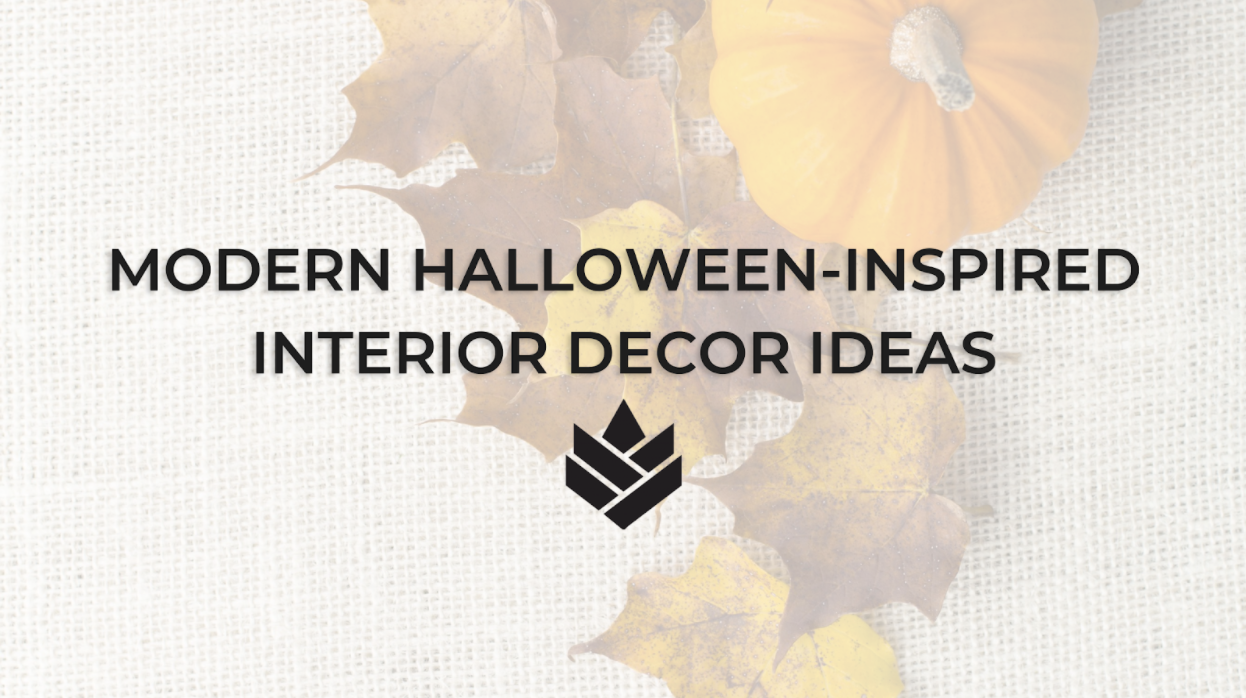 Spooky-season is approaching! That means it's time to bring out the Halloween decor. This year, take a break from plastic pumpkins, skeletons, inflated ghosts, and fake cobwebs. We're here to make sure your Halloween interior design is spooky, modern, stylish, and sends shivers down your spine all season long. 
Try these modern interior design ideas to spread the spirit throughout your home, while staying modern and elegant:

(Left to right: Homey Oh My + Shayna Rose Interiors + Shayna Rose Interiors)
Monochromatic 
Just because it's Halloween doesn't mean you need to stick with the typical orange and black color scheme. Decorate your interior with simple monochromatic pumpkins and gourds rather than the traditional orange pumpkin to give your space a modern aesthetic. Add a touch of black with this Azibo Thick Arrow African Pillow in your room while you're at it for a striking, spooky vibe.
Don't forget the walls! Make your wall the focal point with this "Gargoyle Package Service" framed photographic print to scare off evil spirits this Halloween season!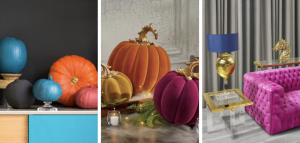 (Left to right: Danetti + Grandin Road + Shayna Rose Interiors)
Pops of Color and Velvets
Halloween decor doesn't always need to be moody and spooky. For a more vibrant interior, incorporate a bright, Autumn color palette with textures, like velvet. Bold and colorful decor will add depth to your modern  interior design aesthetic. Be sure to pick up this bright pink Vicenza Velvet Tufted Sofa as an accent piece of furniture to spruce up and brighten up your interior.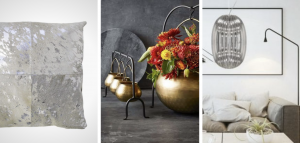 (Left to right:  Shayna Rose Interiors + Pottery Barn + Shayna Rose Interiors)
Silvers and Metallics
Although traditional, that orange and black color scheme is totally overrated. Give your interior a more stylish and modern palette by adding silvers and metallics into the mix this Halloween season. Opt for metals, glass, and other metallic details to give your interior a modern and bright aesthetic that is totally in this season. The Seraphina Pendant Light is ideal for any space, as the metallic finish gives this light an incredible sheen that will add brilliant style to your interior. Don't forget to add a touch of glamour to your bed or couch with this Silver Forest Cowhide Pillow, it's sure to be crowd favorite. 
For interior design updates that will last all year 'round, call Shayna Rose Interiors today!