Shayna Rose Interiors Wins Graphic Design USA Award
Shayna Rose Interiors has been hard at work to give our customers even more custom and semi-custom design options! For example, one of our newest, most exciting projects in the works is the unveiling of our custom bed line. Also exciting: Our brochure was chosen for a graphic design award from Graphic Design USA! 
More About Our Custom Beds
Soon, shoppers at ShaynaRoseInteriors.com will be able to design their own custom bed. This includes the headboard style and upholstery, the platform base, bedding, and more! We put together an informational brochure to outline all of the design options we have in mind, in order to inform our friends in the industry about what we're working on. We called it the Everyone Wins promotion. 
More About The Award
Shayna Rose Interiors is excited to announce that our Everyone Wins Promotion Brochure was chosen by Graphic Design USA as a 2019 American Inhouse Design Award winner for Integrated Printing and Graphics! 
The beautiful brochure was a team effort. We couldn't have achieved this without Art Director Sabrina Black and Copywriter Larendee Roos.
So, we would like to give a heartfelt thank you and congratulations to those two rockstars! Their talent, creativity, and commitment is what our business is all about.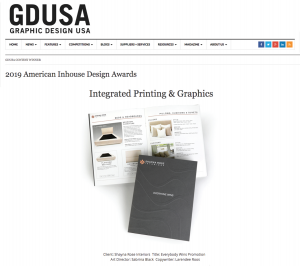 Keep an eye on our website. We will be rolling out our custom bed line soon. And, we can't wait to help you create your ideal bedroom!
Want to stay up to date with all of our exciting announcements? Follow us on Facebook and Instagram!