Custom-Cut Carpet: Create Your Ideal Area Rug
Interior design is all about color, texture, and proportion. And with Shayna Rose Interiors custom-cut carpet, you can make sure that applies to your area rug, too!
Have you ever noticed how frustrating shopping for area rugs can be? All too often, you choose a carpet that looks perfect online—but when it arrives, it's thin, dull, and low-quality. Or, you have to choose between getting exactly the carpet pattern you want or getting the right dimensions for your space. Since when is every room in every house 6×8, 8×10, or 10×12? 
At Shayna Rose Interiors, we think you should be able to have exactly the carpet you envision for your home. You choose your color, pattern, and texture. Then, you choose your size.
We will custom-cut any carpet—down to the inch! 
Need help measuring your room and determining the right area rug size? Give us a call! We'll come to your home for a consult.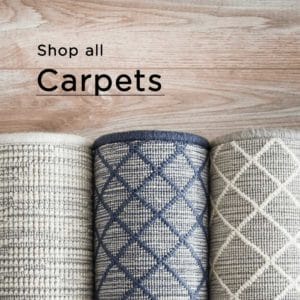 Another benefit of shopping custom-cut carpet with Shayna Rose Interiors is that there are no surprises. You can order a sample and triple check that the color, texture, softness, and pile are just as you imagined. 
Run your face over the sample and make sure that it's plush to the touch. 

Sink your feet into the high-quality carpet fibers and check that you're going to love walking on your brand new carpet everyday.

Check your carpet sample against the other design elements in the room and make sure that you like the way the textures and colors play with each other. 
If you love your first sample and you're ready to commit, get back online and order your custom-cut area rug from Shayna Rose Interiors. It's guaranteed to ship (for free) within three weeks.
If you're not 100% sure the sample is the right carpet for you, return to our sample library and get yourself some more options. With Shayna Rose Interiors, anything is possible.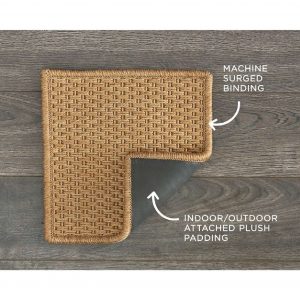 Maybe the best feature of our custom-cut carpet program is that every custom area rug we create comes with attached indoor/outdoor padding. This plush padding goes on the bottom of every Shayna Rose Interiors carpet so that we can promise ultimate comfort as well as protection for your floors.
Speaking of protection, don't worry about protecting your carpet. Almost all of the high-quality carpets we offer at Shayna Rose Interiors are made from easy-to-clean wool. But if you really want to ensure that your carpet is going to survive kids, pets, and red wine spills, check out our outdoor carpet options. Outdoor carpets are made to withstand all the elements, so they'll be sure to hold up against anything going on inside your home. Don't worry—choosing an outdoor carpet doesn't mean sacrificing rich colors and soft textures. 
When designing your home, remember: The carpet is the foundation of your space. It's crucial to consider how the color, texture, and proportion of your carpet or area rug will play into the overall design of the room. The only way to ensure that you get exactly the carpet your space needs is to shop custom-cut carpet from Shayna Rose Interiors.

Any questions? Call us! We're always here to help you bring your design dreams to reality. 
Follow us on Facebook and Instagram for more interior design inspiration.