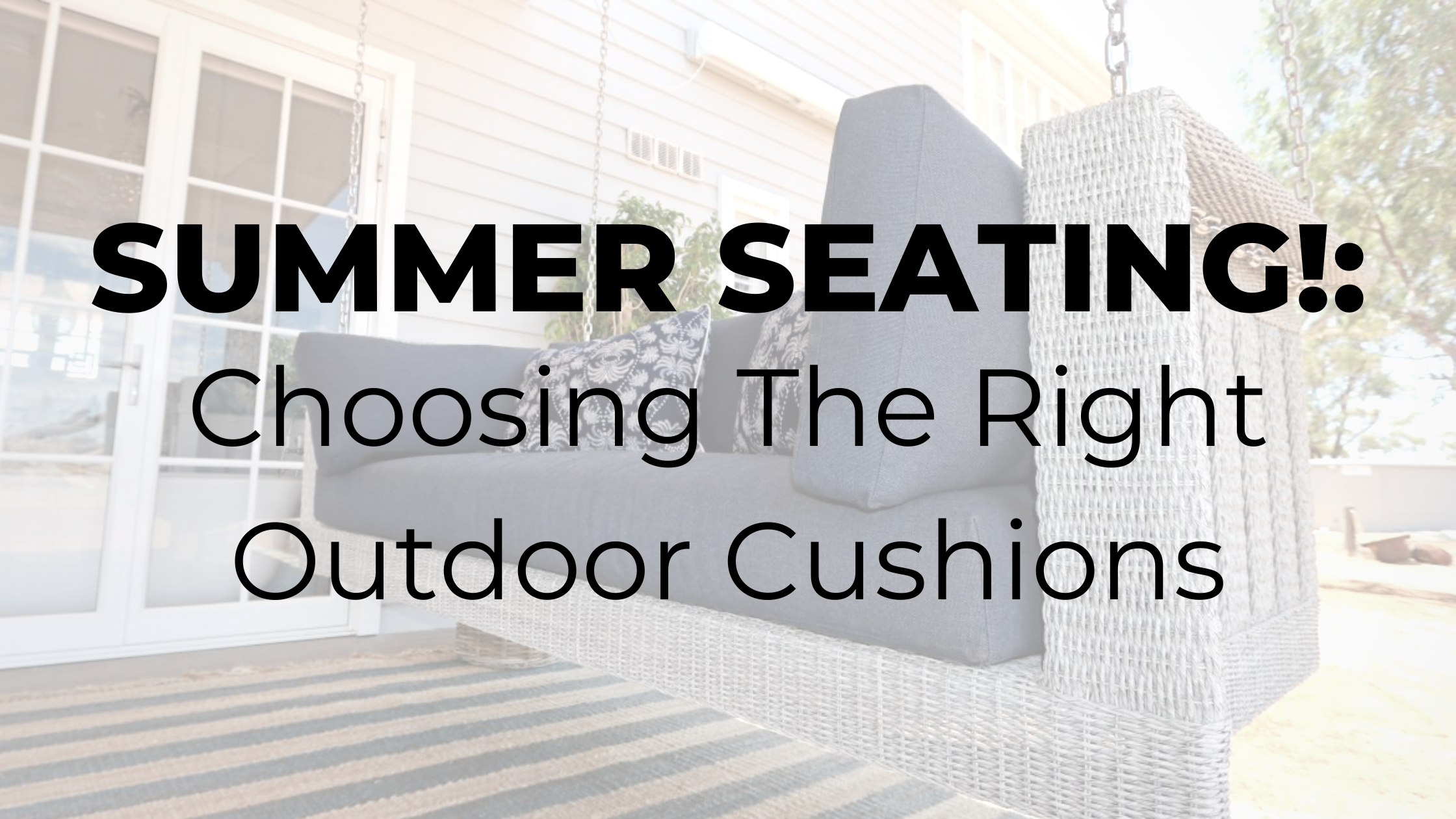 We've all been there. You're entertaining outside for the first time of the season. Your guests will be at the house any minute. You go to take the outdoor cushions out of storage to prepare your backyard and… they're dirty, full of leaves, and (if you're being honest) smelly!
Don't worry – Shayna Rose Interiors can replace the outdoor cushions for your patio furniture, porch swing, boat, and more!
We specialize in crafting custom products, which means that we can create an outdoor cushion of any shape or size so that it fits like the original. And, we'll be with you through every step of the design process.
Here's what you can expect when you design a custom product with Shayna Rose Interiors:
The Design Process
The first step to any custom piece is the design. When you contact us to begin your new custom outdoor cushions, you'll have a 30-minute design consultation with Shayna Rose to discuss your vision. Shayna will use her expert eye to help you envision the end result, select colors and materials that will complement your outdoor design, and determine a realistic budget for the project. After this call, you'll be so excited for the final result!
Material Selection
We know it can be tricky to envision your new cushions without seeing them – that's why we always send out fabric samples before we start production. You'll receive multiple options so that you can see and feel which one is right for you.
If you have unique seating that requires a very specific shape, such as boat seating or a built-in bench, we can even mail you a paper template of your new custom cushions. Lay out the paper templates to ensure that you love the way your new outdoor cushions will fit in the space!
Once you have your samples and your templates, you can be 100% confident that you'll love the custom cushions that arrive to your door.
Production
After the materials have been selected and the size has been approved, we get to work on your order. At Shayna Rose Interiors, quality is everything. That's why we make every custom piece by hand with care. Because the design part of the project is over, you won't need to be involved during production. You can sit back, relax, and wait for your outdoor cushions to arrive.
Delivery
Did you know that we offer white glove delivery service? Depending on your location, you can choose whether you want your new cushions dropped off at your door or installed by a member of our team.
Can you believe it's that easy? Contact Shayna Rose Interiors today to begin designing your new, custom outdoor cushions!