The Vincenza Custom Upholstered Bed
Create the bed of your dreams with Shayna Rose Interiors
Okay, let's say you're looking for a new bed. Do you really want to scroll through thousands of beds online or walk through dozens of stores to make sure you get exactly what you're looking for? Didn't think so! With Shayna Rose Interiors, you can create your ideal custom upholstered bed and have it delivered (for free!) within 3 weeks.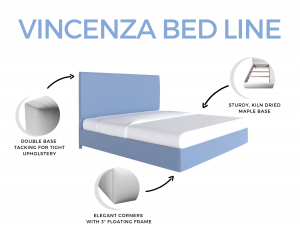 Here's how it works:
Select a platform base: Pick your size. Then select your upholstery fabric from one of our pre-selected fabric libraries OR any fabric you love from our site.
Choose your headboard style: Choose from channeling, welting, tufting and nail head details.
 Complete your order: Your totally-customized upholstered bed ships for free in 3 weeks or less.
Not sure exactly what size, fabric, or detailing will suit your interior design best? No worries – that's what we're here for. For a limited time only, call Shayna Rose Interiors for a free design consultation. We'll provide samples of all the fabric and detail options, so you can make sure your bed looks and feels exactly how you want it. That's the beauty of custom!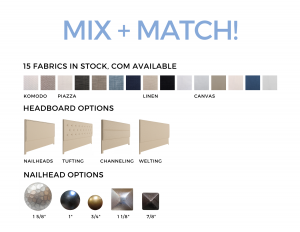 At Shayna Rose Interiors, we want you to be part of the design process. After all, it's YOUR bed.
Why shouldn't it have everything you want?
Ready to get designing? Begin your custom upholstered bed design with the Shayna Rose Interiors Vincenza line today!
For a limited time only, every Vincenza bed is 25% off with 3-week free shipping guaranteed! WHY WAIT? 
Follow Shayna Rose Interiors on Facebook and Instagram to learn more about our custom home furnishings, quick ship solutions, and solution-oriented designs!